Boise Acupuncture Co-op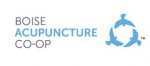 Business Name:
Boise Acupuncture Co-op
About:
Boise Acupuncture Cooperative's mission is to provide accessible quality healthcare, in a comfortable community setting, and the cost is on a sliding scale of $15-$40 per treatment. Our licensed acupuncturists offer acupuncture, cupping, Chinese herbal prescriptions and moxabustion instruction. BAC also will offer monthly community education specials. The BAC provides an inviting community atmosphere for people to heal. It's conveniently located, and extremely affordable; making regularly scheduled appointments available for regular folks.
More:
There are currently 3 owners, DaLyn Greer, Gretchen Huettig, and Stacey Kelsey. Gretchen & Stacey have been practicing as licensed acupuncturists in Idaho for the past 4.5 years. They all came together, along with many other community supporters to build this clinic in March of 2014, and opened the doors in July! BAC strives to make acupuncture affordable, accessible and therefore available to as many people as possible. They feel community and cooperatives are important, and are also members of People's Organization of Community Acupuncture a co-op built to support acupuncture clinics. As a cooperative, we are striving to put our patients first. This is a for profit business, but not a get rich business. We are building a business that will be around long after we are retired so the community can continue to be served. The community acupuncture model allows acupuncturists and staff to earn a living wage, but we don't do so at the expense of our patients. Everybody wins.