Mckay Healing Arts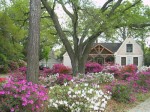 Business Name:
Mckay Healing Arts
About:
Mckay Healing Arts is owned and operated by Debra Collins, BS, LMBT, CHt and Leon Mckay LAc MATOM.Mckay Healing Arts is close by on Wrightsville Ave and a world away. Our facility is a sanctuary. With studio and treatment rooms located in a renovated home on a secluded wooded lot with Koi Pond, Waterfalls and Japanese Meditation Garden. We like to describe ourselves as a bridge between Heaven and Earth and East and West as a place for you to begin or to continue your journey.

We offer a truly integrative, holistic approach to health care. Our licensed and certified therapists represent a variety of related disciplines, including Acupuncture, Hypnotherapy, Massage, Cranio-Sacral Therapy, Reiki, Tai Qi, Qi Gong and complete Herbal Pharmacy. Our practitioners acknowledge and assess each individual, wherever he or she are in their process, with the goal of easing pain and restoring well being.
More:
Mckay Healing Arts has been voted Best Of Wilmington 7 years.