Eloise Albrecht L.Ac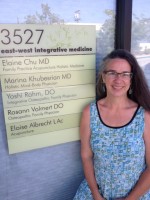 Business Name:
Eloise Albrecht L.Ac
About:
I was Nationally Certified and started practicing acupuncture in NY City in 2006. I was licensed in California in 2013. Since I have been a massage therapist specializing in chronic pain and myofascial work for 20 years, most of my acupuncture is working with physical pain. My sessions usually include a good bit of bodywork as well as the acupuncture.