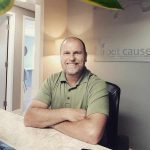 About:
Chinese Medicine and Acupuncture Antigonish. University trained Acupuncturist and Herbalist. Paul Carter completed a Bachelor of Chinese Medicine from Victoria University in Australia. His degree combined both acupuncture and Chinese herbal medicine. As a part of his course, he attended an internship at Shanghai Shuguang Hospital, China. This experience helped to see Chinese medicine integrated with modern medicine.
Paul Carter offers acupuncture, Chinese medicine, herbal medicine, cupping and lifestyle support to enhance health. Paul established his practice in Antigonish after moving from Australia with his family.
With over 10 years of clinical practice, Paul is a competent acupuncturist and herbalist.
About:
Diane Jones, Licensed Acupuncturist, is a 1993 graduate of NESA. She has over 22 years of experience using Traditional Chinese Medicine, Japanese Acupuncture, and Tung style acupuncture to treat low back pain, joint pain, acute and chronic injuries, headaches sinus infections, digestive disorders, gynecological problems and emotional and stress-related conditions. Diane also treats and helps manage complex immune diseases such as Lyme disease and multiple sclerosis. Kenyon Keily, herbalist, has over 40 years experience in Chinese, Tibetan, and Ayurvedic herbal medicine. He treats all ages for everything from simple ailments to complex, chronic conditions. Kenyon uses herbal medicine to treat emotional or stress-related problems, female and male health and fertility, urinary problems, cardiovascular problems, and digestive issues. He also uses herbs for colds, flus, allergies, sinus congestion, immune weakness, and skin problems. Kenyon specializes in herbal treatments for Lyme disease. Together with Diane Jones, Kenyon helps run a Lyme support group at the office on the second and fourth Tuesdays of each month.
About:
I am a chartered physiotherapist and hold a Licentiate in Acupuncture. I am an advanced member of the AACP.