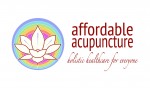 About:
At Affordable Acupuncture, we have a team of highly qualified practitioners who excel at:
* Providing gentle, effective and powerful techniques to help you heal your health issues from their core, rather than just treating the symptoms
* Dramatically reducing your stress levels whilst improving your sleep, energy and mood
* Providing a deeply nurturing, caring, private and safe space for you to relax and get in tune with your own body
* Drawing on a wide range of knowledge and experience to tailor a healing plan that is individualised to you and your specific needs.
* Empowering you with skills and knowledge to continually improve your health

Our practitioners are experienced, professional and registered with the Chinese Medicine Board of Australia as well as all health funds. We offer our treatments at an affordable rate because we are passionately dedicated to helping people. Be reassured you will not be sacrificing quality of care when you come to see us. We have helped thousands of people just like you, and are passionately dedicated to helping you by providing professional treatments at a rate that allows you to receive enough treatments to actually see results.