Beach Community Acupuncture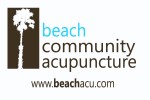 Business Name:
Beach Community Acupuncture
About:
We provide affordable, effective acupuncture to people in Ocean Beach and our surrounding communities. We are devoted to helping people find their new "normal." BCA is a community business. Our motto is $20 treatments for everyone, everyday. No gimmicks here! We provide over 10,000 treatments a year, and have extensive experience treating all kinds of conditions.