About:
Our Calgary acupuncture clinic offers high level acupuncture and herbal medicine treatments to help our patients improve and maintain their health.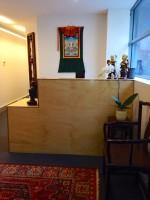 About:
Karen is a Doctor of Oriental Medicine and registered to practice acupuncture, Chinese herbal medicine and physiotherapy in Australia and the USA. Her qualifications are Ph.D. (Research Sc.), B. App. Sc. (Physio.), Dip. App. Sc. (Acup.), Ad. Dip. (Ch. H. Med.).

She has been working in healthcare since 1988, practicing Chinese medicine for 20 years and has worked in Australia, UK and in the USA for 14 years. During this time Karen studied Contemporary Chinese Pulse Diagnosis (CCPD) for 12 years under master practitioner Leon Hammer, MD, Chinese herbal medicine with Andrew Gamble, and sat workshops with Lonny Jarret and Jeffrey Yuen. She also received extensive training in osteopathic manual medicine techniques that have their origins in the USA and are not commonly practiced in Australia.

Karen has completed research in several areas including a 12-month clinical trial, Traditional Chinese Medicine and People Living with HIV/AIDS, A Quality of Life Study and recently her doctoral studies evaluated the reliability of practitioners to apply pulse diagnosis clinically, Investigating the reliability of Contemporary Chinese Pulse Diagnosis (CCPD) as a diagnostic tool in Oriental medicine.

Karen has coauthored a book on pulse diagnosis Handbook of Contemporary Chinese Pulse Diagnosis, presented at conferences in the USA, Australia and New Zealand, published articles in peer review journals, and is one of 14 worldwide instructors certified by Dragon Rises Seminars to teach CCPD.

For 10 years Karen was clinical director of a busy clinic in New York City that specialised in integrating eastern and western medical treatment paradigms. Where western medical intervention was beyond the scope of her practice Karen worked closely with her patients' physicians to integrate their medical care with that of acupuncture and Chinese herbal medicine. This resulted in better treatment outcomes, often saw the reduction of medication dosages and an associated improvement in quality of life. This was achieved across a range of medical specialties including psychiatry, respiratory, fertility, immunological, gastroenterology and cardiology.

Karen firmly believes a combination of western and Oriental medicine stands to offer us optimal health care outcomes. She currently continues her teaching, writing and clinical practice in Sydney.