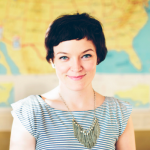 About:
Caitlin is a board certified acupuncturist, clinical herbalist, and is a skilled and intuitive practitioner. She specializes in women's health and the treatment of fertility.

Caitlin graduated from a three-year program with a Masters of Science in Acupuncture from Bastyr University, and is nationally board certified. She has received additional training in women's health and fertility, pediatric care, and facial rejuvenation.

The power of combining acupuncture and Chinese herbal therapies with western medicine yields incredible results. Caitlin is fascinated by bringing the 3,000 year old Eastern medicine into contemporary medical times. Caitlin believes that acupuncture and Eastern medicine are key components of today's health care system. She works well with allied health professionals and would love to be a member of your health care team.

Caitlin also works at Bastyr University's Chinese herbal dispensary as a shift supervisor. Teaching the students a hands on experience with the raw, granular and patent herbal formulas, as well as how to run and operate a successful herbal dispensary for their future practices.

In her practice, Caitlin sees patients coming in for a wide variety of symptoms. However, her expertise and passions lie in treating women's health and wellness, from fertility with IUI/IVF support, pregnancy support, postpartum, stress, insomnia, fatigue, chronic and acute pain, headaches, to digestive health. For Caitlin, there is nothing quite like the awe and satisfaction of helping a woman to heal and reconnect with her body as she navigates through the path to a successful pregnancy.