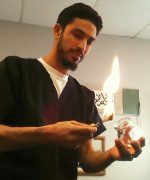 About:
Ali Sherbiny, M.Ac.O.M., L.Ac. is a nationally certified and Virginia Board of Medicine-licensed acupuncturist and herbalist with a private practice in Arlington, Virginia.

He received his Masters of Acupuncture and Oriental Medicine from the Arizona School of Acupuncture and Oriental Medicine (ASOM).

His experience includes integrative treatment, community acupuncture, as well as private practice. His practice specializes in the treatment of pain, insomnia, chronic fatigue, and stress-related effects on the body and combines acupuncture with bodywork (Tui Na massage) and cupping to achieve his clinical results.

His continuing education coursework has included study of the Tung family lineage style of acupuncture with Richard Tan, Brad Whisnant, and Henry McCann and food medicine (Chinese & Western Nutrition) with Dr. Ardeschir Mehrabani, NMD, Noemi Quintanar, NMD, RM, MT, and Dr. Marlene Merritt, LAc, DOM, MS Nutrition. Most recently he studied with Thea Elijah, LAc, former director of the Chinese Herbal Studies Program at TAI Sophia Institute, for a deeper understanding and embodiment of 5-element medicine.

Prior to his graduate studies at ASOM, he studied organic farming as an apprentice under a master gardener and worked in organic food sales with Green Star Farms in Blacksburg, VA.

Ali received his B.A. in Sociology from Virginia Tech. He continues to see social and lineage implications to health and healing and loves working with people who have the aspiration to break free from negative psycho-emotional patterns.