HudsonPindoctor and CAP Community Acupuncture Project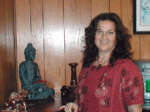 Business Name:
HudsonPindoctor and CAP Community Acupuncture Project
More:
The HudsonPindoctor provides a nurturing center for experiencing on of the most relaxing paths to reach your individual physical and spiritual health care goals.  We provide services both for those who have health insurance and those who do not or cannot afford private sessions.  Judy Chaleff has studied both Western and Eastern medicine and several types of body work and body wisdom. Judy has ability to explain issues on many levels, and encourage patients to understand and partake in their own healthcare.   She treats everyone with dignity, respect and warmth and combines a wealth of knowledge with excellent listening skills and insightful intuition. Judy was the first acupuncturist to be credentialed at Saint Lukes medical center in Newburgh,  NY and while there is no longer an acupuncturist on staff, she maintains close professional ties with many local physicians, psychotherapists and alternative health practitioners.
"I was first drawn to internal medicine as my own experience  receiving acupuncture was for allergy and asthma.  I continue to be amazed at how well this medicine works for pulmonary, digestive, and neurological issues. I  also work with a variety of pain issues including those from injury and degeneration.  For me, one of the most exciting areas of my  work includes reproductive and urogentital care including a variety of male and female sexual issues and age related changes".