Wise Turtle Acupuncture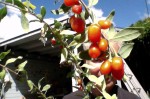 Wise Turtle Acupuncture is a hybrid clinic of Community Acupuncture, with private treatments of acupuncture, Acutonics and aromatherapy available to those wanting them. I also provide bedside therapeutic harp music.
Acutonics is a system of planetary tuning forks, used instead of or in addition to needles and/or aromatherapy. I also use Tibetan singing bowls, bells and gongs to bring people back into harmony with the earth and the planets.