East-West Integrative Medicine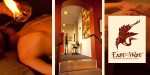 Business Name:
East-West Integrative Medicine
About:
East-West Integrative Medicine Clinic provides a full complement of Traditional Chinese Medicine and healing services, including massage and specialized bodywork. We empower you to reach your highest level of physical, mental and spiritual well-being. Learn more about our services and how we can help you optimize your health.
We take a holistic approach to treating body, mind, and spirit. The roots of Traditional Chinese Medicine are found in ancient Taoist philosophy. Taoism views the individual as an energy system in which body and mind influence and balance one another to maintain good health. We believe that acupuncture, herbal medicine, massage, nutrition and exercise are essential elements for maximizing health and preventing illness in a stressful world.
Our goal is to create a respectful healing partnership to pursue each client's path to wellness. We listen carefully and reflect on each individual's history and current needs in order to maximize well-being. We approach healing with intention and integrity. You will receive high quality services from highly-trained, experienced health professionals.
More:
We offer comprehensive alternative and complementary healthcare services for a wide range of physical and emotional conditions. "Our goal is to empower you to reach your highest level of physical, mental and spiritual wellbeing."