Advanced Healing centre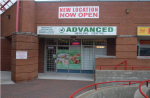 Business Name:
Advanced Healing centre
About:
Welcome to Advanced Healing Centre and congratulations on taking your first step towards health and wellness naturally. Advanced Healing Centre is a multi-disciplinary clinic consisting of homeopaths, TCM practitioners, Naturopathic Doctors, Registered Massage Therapists, Relfexologists and Holistic Nutritionists. Our objective is to guide your journey to ultimate health and wellness while helping you ignite your inner healing powers and balancing your mind and body in peaceful, relaxing environment. At Advanced Healing Centre, we strive to educate, empower each individual and we ensure to use the best expert services, and latest therapeutic treatments aimed to improve your body's natural state of health and wellness.