Acupuncture & Asian Medicine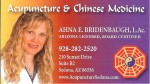 Business Name:
Acupuncture & Asian Medicine
About:
Specialties

Specialties:

Acupuncture and Chinese Medicine is a complete health care system that can dramatically improve or eliminate nearly any disease or condition either alone or in conjunction with your current health care.
Acupuncture is an alternative health care that is all-natural, non-invasive, painless and effective. The pins help to open any blockages, and to balance your body gently back to health. Acupuncture is therapy, and usually a series of treatments is needed to get the best results, and the amount suggested is revealed after the first exam and treatment. Ahna has the state of the art AcuGraph software system the provides the patient with a full color graph that accurately details the state of health of the acupuncture meridians and balances them back to normal. She also can relieve pain instantly up to 50% or more…

History

Established in 1996.

Ahna earned a Bachelor of Fine Arts from the U. of Utah in Salt Lake City. Her course of study was ballet, jazz and modern dance. She also studied the medical sciences as they pertain to the body such as anatomy, biology, kineseology, chemistry. She had an exciting career as a dancer and performed on the Sony and Cher Show at the CBS Studios in Hollywood. She also performed with the Gloria Newman Dance Company and various other dancing jobs traveling to Japan and Canada. At her 20 year high school reunion she did an examination of her life and realized she wanted to be a Doctor like her father. After considering Radiology and Chiropractic – she toured the campus of Emperor's College of Traditional Oriental Medicine in Santa Monica, CA and immediately fell in love with this powerful healing art. She graduated Cum Laude in 1996, passed her National Boards and moved to Sedona, Az where she obtained her Acupuncture License. She has enjoyed a successful private practice ever since.