Traditional Eastern Medicine, Inc.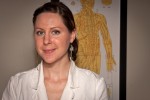 Business Name:
Traditional Eastern Medicine, Inc.
About:
Stephanie Fischer, DA completed her acupuncture studies at the New England School of Acupuncture in Boston, MA in 2009 and has been working in private practice in Providence where she treats patients of all ages. She also pursued specialized training in several Japanese acupuncture styles including non-insertive treatments, magnet therapy, moxibustion, and pediatric acupuncture. Dr. Fischer will also incorporate Chinese healing techniques, including Tuina massage, cupping, meridian massage and nutritional counseling into her treatments.