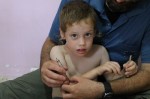 About:
Pediatric Acupuncture and Chinese Herbal Medicine.
Acupuncture.
Shonishin (Japanese non invasive acupuncture for kids).
Herbal medicine.
Internal Medicine for adults.
About:
Dr. Robin Schaefer loves to help people get better and stay healthy! She is a licensed acupuncturist and a doctor of chiropractic. She also practices Functional Neurology (to help your brain work better) and Functional Medicine (to help your organs work better) as well as energy psychology (to help clear up stress from the present or the past). She's been in practice for 24 years, has had health challenges of her own that she healed through, and is the happy mom to two teen-aged sons.
About:
I'm a mother, a wife and a daughter, a student and lover if of live. I love what I do and will be sure to share my passion for health and wellness with you.