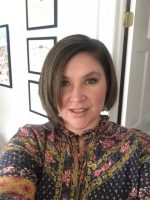 About:
Shannon Caperton, L.Ac was inspired to become an acupuncturist after witnessing the power of this type of medicine. It improved the health of family members struggling with health issues and who were bereft of relief using standard medical care.

She attended graduate school at Pacific College of Oriental Medicine in Chicago where she earned her Masters in Traditional Chinese Medicine. During her time in Chicago she was privileged to work in underserved communities at the Project Vida clinic in the Little Villages neighborhood on the city's west side, as well as at Chicago Women's Health Center. In addition to these experiences, she worked extensively in the school's student clinic, which prepared her for working with a diverse population and gave her the experience to treat a wide variety of disorders.

Shannon is nationally certified by the NCCAOM, as well as licensed by the Ohio Medical Board.