Bellmore
About:
NY State Lic. Acupuncturist Board Certif. Chinese Herbology and Oriental Medicine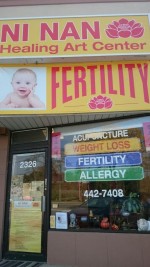 About:
Ni Nan Healing Art Center specializes in Acupuncture, Chinese Herbs and Bodhi Meditation. Bodhi Meditation is an advanced form of energy healing.

Our combination of meditation with acupuncture & Chinese herbs offers our patients a unique physical and emotional experience.

Bodhi Meditation is a complete alternative to Reiki. Bodhi Meditation treats all conditions that Reiki treatments can treat and more.

I can't remember a single patient that came to me for treatment with an open heart that didn't leave feeling some improvement in their physical or mental well being. Some rather dramatic.

We have had excellent success with

Pain Management:
Back and Neck Pain
Hip Pain
Sciatica
Knee Pain
Ankle and Foot Pain
Shoulder Pain
Jaw Pain and TMJ
Hand and Wrist Pain
Shoulder Pain
Headache and Migraine
Fibromyalgia and Chronic Fatigue Syndrome
Trigeminal Neuralgia
Stroke Recovery

Women's Health:
Uterine Fibroids
Polycystic Ovary Syndrome (PCOS)
Endometriosis
Premenstrual Syndrome (PMS)
Menstrual Irregularities
Acupuncture Care During Pregnancy
Post-partum Care
Infertility
Menopause
Gynaecological and obstetric disorders

Other:
Digestive system disorders
Insomnia
Irritable Bowel Syndrome (IBS)
AutoImmune Disorders
Stop smoking
Weight loss
Acupuncture for Facial Rejuvenation
Stress Relief
Anxiety Relief
Depression Relief
Sporting injuries
Cardiovascular disorders
Respiratory conditions
Skin conditions
Autism
Acupuncture Support during Cancer Treatment

About:
Juliet is a Licensed Acupuncturist (L.Ac) in New York and is nationally board certified in Oriental medicine, acupuncture, and Chinese herbal medicine (Diplomate Oriental Medicine – Dipl. OM) by the National Certification Commission for Acupuncture and Oriental Medicine (NCCAOM). She graduated from Pacific College of Oriental Medicine (PCOM) in New York and earned her Master's degree in Traditional Oriental Medicine (MSTOM) through a four-year graduate program where her degree holds a dual emphasis in Acupuncture and Chinese Herbalism. While she treats a wide variety of complaints, her special interests are pain management (acute and chronic pain,) headaches/migraines, women's health, and emotional/psychological wellness. Juliet is committed to facilitating her patients' physical and emotional well-being, and to help them progress towards healing.