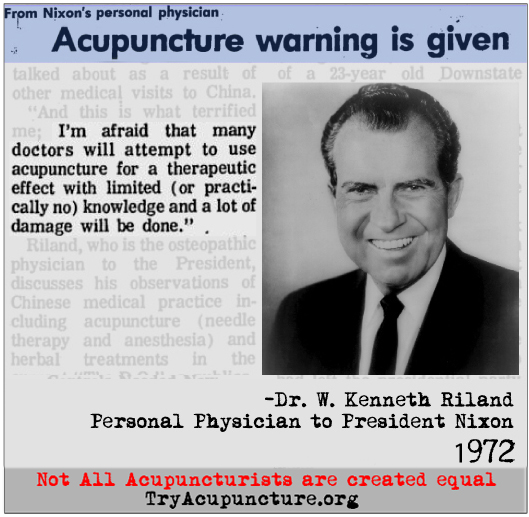 This warning was given more than 40 years ago by Dr. W. Kenneth Riland, the personal physician to President Nixon. Yet, his words ring just as true today. According to a piece published by the Macalester College Psychology Department, acupuncture fell into relative obscurity in the West until 1971, when a New York Times reporter fell ill with appendicitis while covering President Nixon's trip to China. The surgeons in China successfully used acupuncture as anesthesia during the reporter's surgery and after, to control post-operative pain. The ancient practice was back on the radar and gained traction in the West.
Dr. Riland worried that under-trained physicians would start incorporating acupuncture into their services. He was right. The success of the reporter's surgery was likely due to the years of study the Chinese doctors underwent. As we all know, acupuncture isn't just sticking needles into random points on the body in hopes of curing one symptom. It's a comprehensive system of medicine that involves diagnostic criteria that differs drastically from that used in the West. Medical acupuncture courses are not in-depth enough to promise that a physician, who is merely certified and not licensed, will have the proper training in traditional Chinese medicine theory, precise needling techniques, the complex principles of meridians, energy, and organ systems, safety protocols, and more.
Dr. Riland went on to say: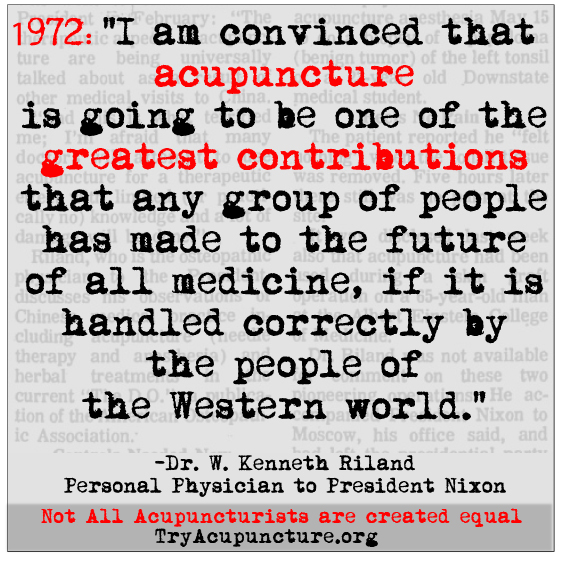 Even in the early days of acupuncture's popularity in the Western world, medical doctors were aware of its effectiveness. The creation of the acupuncture license (L.Ac.) (A.P. in Florida. D.O.M. in NM) was an important development, as it ensured Eastern medicine was being practiced by knowledgeable, fully trained practitioners. The advent of medical acupuncture, chiropractic acupuncture, and dry needling crash courses has led to an influx of "practitioners" who have not spent the years necessary to master the healing art. The various levels of acupuncture training are confusing to the public, many of whom may equate M.D. with all types of medicine. Receiving medical acupuncture is on par with being prescribed antibiotics by an acupuncturist. Neither party is qualified to offer these treatments without a license.
While Dr. Riland predicted that, "acupuncture is going to be one of the greatest contributions that any group of people has made to the future of all medicine," he included an important caveat: "if it is handled correctly by the people of the Western world."
Are we handling it correctly? Without knowing the difference between certification and licensure, potential patients might not understand the value of an L.Ac. In the United States, an acupuncturist must accrue over 2,000 hours of acupuncture and Chinese medicine training and education to receive a license. This means that they have completed a master's level education, on-site at a nationally accredited college or school of acupuncture or Oriental medicine. In addition, they have hands-on experience, as they must treat at least 250 patients before becoming licensed. The final steps are passing the stringent national certification exam through the NCCAOM (or individual State boards) and engaging in regular continuing education courses. Some practitioners have further qualifications and are Nationally Certified Practitioners of Oriental Medicine or Diplomates of Oriental Medicine (Dipl. O.M.).
Medical doctors and chiropractors are typically certified after 300 hours or less of training! The abbreviated courses do not include supervised clinical practice on actual patients, an exam, or even continuing education requirements. The bottom line is that 300 hours is not enough to perfect the art and science of traditional Chinese medicine.
Studies indicate that acupuncture truly works for a large variety of conditions. As a licensed acupuncturist, I've seen the benefits first-hand. I believe that acupuncture can be one of the greatest contributions to medicine if we preserve the integrity of the licensed acupuncturist. When patients receive treatment at the hands of a non-licensed practitioner there are potential dangers. In addition, the treatment is often ineffective, reducing the chances that the patient will receive acupuncture again in the future and reap the benefits. When working with a licensed acupuncturist, individuals can rest easy knowing that this form of medicine is the practitioner's main discipline. Find the right, qualified, licensed practitioner so that they will have the skill and experience to stimulate your body's own natural healing response in a safe and effective manner.
Don't miss our weekly articles! Follow us for instant notifications of new posts.