Though not as well known as acupuncture, moxibustion is a treatment with an important role in traditional Chinese medicine. The therapy involves burning the end of a moxa stick, made from dried mugwort, and holding it close to acupuncture points on the skin to encourage healing. The stick generates heat and the process is thought to strengthen blood, promote the free flow of qi throughout the body, and enhance wellbeing. The skilled practitioner may also burn the moxa on top of an acupuncture needle.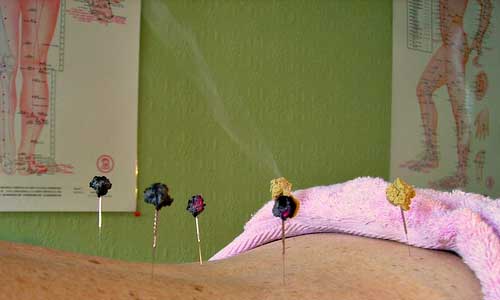 There are two types of moxibustion. Direct moxibustion relies on placing the burning moxa on the skin, while indirect moxibustion is when the burning moxa is held an inch or so above the skin. Indirect moxibustion is often the preferred technique as it doesn't cause pain or burns. It can be used with or without acupuncture needles. In some cases, the moxa is set on ginger or salt to create a barrier that protects the skin.

Moxibustion is particularly effective for eliminating cold, damp and stagnant conditions. By heating the meridians, the practice breaks up obstructions, stimulates qi, and harmonizes energy. When performed correctly, moxibustion is a calming and pleasant therapy.

Issues treated by moxibustion include obstetrical conditions, such as breech babies, menstrual cramps, pain from injury or arthritis, digestive problems, frozen shoulder, and even colds and flu. Moxibustion is not appropriate for those with too much heat. Therefore, it is important to ask your practitioner if the practice is right for you.

Moxibustion is performed by licensed acupuncturists. The technique is typically included in the course of study required to obtain a degree in traditional Chinese medicine. If you're interested in trying moxibustion, visit the Try Acupuncture Directory to find a licensed acupuncture practitioner in your area.