About:
Doctor of Oriental Medicine
About:
Theresa Ferraro, DOM, graduated from Southwest Acupuncture College, Santa Fe NM in 2003 where she focused her studies on Traditional Chinese Medicine. Her interest in TCM stems from a commitment to a holistic philosophy drawing from nature as a healing source. 
She has lived in Santa Fe since 2000 and has lived in Alaska and Montana, where she has worked as a field biologist and naturalist. Theresa has a deep love for the forest, the desert, the ocean and all that dwell within. She brings this passion for the world around her to her patients encouraging the healing process from within. Theresa believes that personal health and planetary connection go hand in hand.
As an acupuncturist her goal is to help you thrive…patient and doctor working as a team. Theresa is an attentive listener dedicated to educating and empowering her patients to take control of their own healing process. Using traditional and auricular acupuncture, she works skillfully and compassionately to restore physical and mental vitality, resilience and all around well-being. Her gentle treatments address both the underlying cause of your dis-ease and the associated symptoms. Her specialties are pain management, anxiety and depression.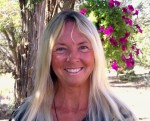 About:
Compassionate care for the entire family
Acupuncture, Chinese herbal medicine, Cosmetic facial rejuvenation, Sound Healing