Nova Scotia
About:
Andrea is passionate about helping others to live their lives free from health barriers. With her gentle spirit and compassionate nature, she strives to help each person in achieving their physical, mental and emotional goals toward wellness.

Andrea has experience in working with an array of health conditions including migraines, arthritis, stress, anxiety, depression, upper respiratory infections, chronic fatigue, fibromyalgia, menstrual disorders, insomnia, infertility, etc. She particularly enjoys the areas of internal medicine, women's health, psychiatry and healthy lifestyle changes for those seeking help to lose weight.

Treatments are designed to improve the flow and balance of energy throughout the body by treating the root cause of illness and disease as well as the symptoms.
About:
Access Acupuncture practices Taiwanese acupuncture, a method that provides quick and effective relief of suffering.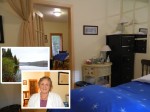 About:
I am a registered acupuncturist with a background in science, research, information technology, health promotion and elder care. I have an Honors BSc. and three diplomas: Biology Lab Technology, Lab Animal Technology (Vet Assistant) and Information Technology.

I am Vice-President of NS-CMAAC, the NS Chapter of CMAAC (the Chinese Medicine and Acupuncture Association of Canada) and considers it an honor to be a part of a tradition with a history and knowledge base spanning thousands of years.

I practice out of my own clinic (Eastern Shore Holistic Acupuncture) in Musquodoboit Harbour and bring a rich life experience to my practice. I understand how health is impacted by environment, workplace, finances, relationships, ability to obtain good food and emotional well being as well as lifestyle and physical constitution.

I am passionate about the holistic aspects of the medicine I practice and enjoy educating others about what I do.

I feel greatly rewarded by being able to help so many people in a world that I believe is "just waking up" to the benefits of natural medicine.