Nashua
About:
At Acupuncture Center of Southern NH, LLC in Nashua New Hampshire, acupuncturist Vicki (Jessop) Irwin, RN, Lic. Ac. offers an integrative form of medicine for a wide range of issues such as chronic pain, allergies, digestive and reproductive. Experienced as both a Registered Nurse and acupuncturist, Vicki understands and works with both forms of medicine, and acupuncture treatments are conducted in comfortable, private rooms.

Acupuncture is a form of alternative medicine based on the principles of Traditional Chinese Medicine. It has been used safely and effectively to treat a wide range of symptoms, and is now recognized by both the World Health Organization and the National Institute of Health as an effective treatment, either in place of or in conjunction with conventional medicine.

Acupuncture is widely used to treat pain. This may include muscle pain, joint pain, arthritis pain, tendonitis, sports injuries, sciatic pain, and chronic pain conditions like fibromyalgia.

Headaches and migraines often respond well to acupuncture.

It has also been proven effective in treating chronic health conditions like asthma, allergies, sinusitis, and digestive disorders, and some forms of numbness or weakness.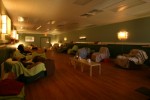 About:
Experienced, affordable acupuncture when you need it. We are a full-time affordable community acupuncture clinic and a POCA member clinic. Treatments are $15-$35, sliding scale, no questions asked.