Hobbs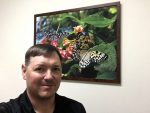 About:
Take back your health, get back on track, you don't have to feel this way.

Lance Lee at Acupuncture Medical Associates is committed to providing quality healthcare for the whole family. We have helped thousands of people just like you.

Lance Lee, D.O.M specializes in the Balance Method-a system of acupuncture offering immediate results-developed by Dr. Richard Tan. This style of acupuncture is able to treat a wide range of conditions from simple to complex, and from the young to the elderly. We also carry a wide range of herbal medicinal's for numerous healthcare needs.