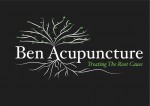 About:
Fully Licenced Acupuncturist based in Snaith near Goole and Selby.

Maybe you want to cut back on tablets or avoid lengthy medications. Try a therapy that has very little side effects or want help with other side effects?
There are many reasons why people choose acupuncture but the main reason is that acupuncture can treat the body as a whole. By this we mean that not only can acupuncture treat the main complaint but you will find that other problem ailments will start to diminish as the treatment progresses. In Chinese medicine we believe in treating the root of a disease as well its presenting symptoms.