Chidragon Acupuncture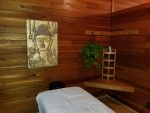 Business Name:
Chidragon Acupuncture
About:
Pam practices a unique, holistic and compassionate approach to Traditional Chinese Medicine (TCM). She has extensive experience in the field of pain management and has siixteen plus years of practicing TCM.


In addition to acupuncture, she skillfully integrates the use of herbal remedies, moxa, cupping, therapeutic massage, guided meditation, and other modalities. Pam is deeply committed to supporting each client on his or her journey back to health, with proven success.