Source Empowered Wellness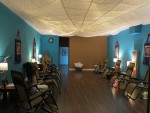 Business Name:
Source Empowered Wellness
About:
We are the only community acupuncture healing model in Pacific Beach. This model allows us to offer this holistic and natural medicine at a 1/3 the price, so you can afford to get better and stay better. Walk-ins are welcome! All of our Acupuncturists are licensed and experienced professionals. We offer chiropractics, massage, and herbal medicine as well. We are open 30 hours a week so you can get your health sourced in a comfortable, calming atmosphere.