Syntruvia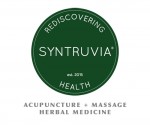 About:
Syntruvia is a healthcare practice in San Diego, CA. We specialize in lower back and muscle/joint pain using integrative acupuncture, herbal medicine, therapeutic massage and exercise.
More:
Syntruvia® is an integrative healthcare practice that provides personalized health and wellness services based on traditional and evidence-based medicine.
Our mission is to understand and listen to your health goals while providing you with effective treatments and the highest level of care.
SERVICES:
We believe in using an integrative approach that combines eastern and western medicine, including:
– Acupuncture
– Chinese Herbal Medicine
– Functional Medicine
– Exercise Science
– Therapeutic Massage
– Eastern and Western Nutritional Science