East West Integrative Medicine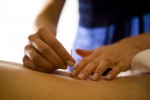 Business Name:
East West Integrative Medicine
About:
Christine Adamo is a board certified Oriental medical practitioner in the state of California. She practices various forms of Eastern medicine including herbal medicine, nutrition, supplementation, acupuncture, and detoxification. She is a graduate of the Pacific College of Oriental Medicine in San Diego, CA and has studied in China at the Chengdu University of Traditional Chinese Medicine.

Christine's training is in internal medicine. She treats various conditions such as digestive disorders, cardiovascular issues, neurological disorders, autoimmune diseases and pain. Christine's specialty is in the field of oncology. She offers integrative care for patients struggling with the side effects of chemotherapy, radiation, and surgery. In addition, she offers assistance to patients who choose to bypass conventional cancer care.