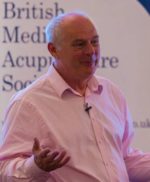 About:
Charles Buck is an eminent clinician, educator and author on acupuncture and Chinese medicine with more than 35-years experience. His diverse interests include medical sciences and the practice of classical oriental medicine. An ex-Chairman of the British Acupuncture Council he has practised in Chester UK for 34 years and has lectured extensively for most of this time.
More:
I have over 30 years of specialist expertise in fertility support with chinese medicine.
In addition I have expert knowledge of the treatment of skin diseases with Chinese herbal medicine.