The days are shorter, the air is crisp, and if you are anything like me you are beginning to crave warming, feel good meals. Now is the time to fire up your oven, put aside your salads and begin eating heartier cooked foods.
According to Chinese Medicine cooked foods that are slightly sweet and warming are appropriate for the fall and winter. These include winter squashes, root vegetables, warming herbs and spices, grains, and meat. Basically anything that is available locally from your farmers market is what you should be serving at the dinner table.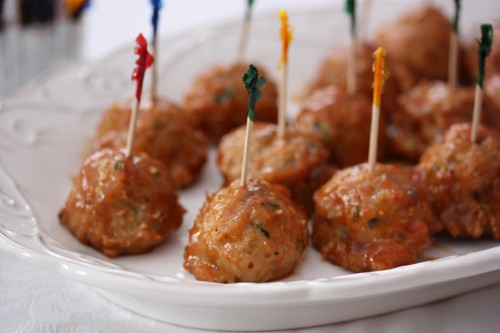 These foods assist your body to produce more Qi (energy) so that you have abundant energy, a strong immune system, and a healthy digestive tract. Having an abundance of Qi will also prevent bruising, hypothyroidism, over-thinking and worrying, muscle weakness or atrophy, and seasonal allergies.
This month I'll be featuring Zesty Cilantro Turkey Meatballs. This recipe is part of the Qi Deficiency diet plans I offer at Yin Yang Diet.
Let's take a look at some of the ingredients together, so you can get a feel for what they do. The ground turkey, eggs, ginger, cumin, chili peppers and onions are all warm in property which assists in boosting the body's Qi (energy). Bread crumbs and noodles are more neutral in property and do not affect the overall temperature of the recipe. However, according to Chinese Medicine these ingredients strengthen the Spleen, which transforms the digested food into usable nutrients and energy. Olive oil and soy sauce nourish the body fluids, while the cilantro helps move the Qi in the body to keep everything free flowing.
In essence, I created an herbal formula with food instead of herbs. Each item has its own purpose and function within the recipe and contributes to the overall action of it: to strengthen the Qi.
This makes for a delicious dinner and is quick and easy to make. You'll have lots of leftovers for lunch and it will probably become a staple in your house, much like it has in mine. Even my 2 year old gobbles these up with joy; this meal is kid approved.
Zesty Cilantro Turkey Meatballs
========================================================================
– 4 servings
1 lb organic ground turkey
1 organic egg, beaten
1 tbsp tamari soy sauce (or Bragg's liquid aminos)
1 tsp garlic, minced
1 tsp fresh ginger root, minced
½ tsp ground cumin
½ tsp chilli pepper flakes
¼ cup fresh cilantro leaves, minced
¼ – ½ cup gluten free bread crumbs (use ground rice puffed cereal in a pinch)
2 tbsp olive oil
1 package of brown rice noodles, cooked (I use Rizopia or Tinkyada brand)
1 tbsp olive oil
1 small onion, diced
1 small zucchini, diced
salt and black pepper to taste
========================================================================
Mixing Bowl:
Mix together turkey, egg, soy sauce, garlic, ginger, cumin, and chili pepper flakes. Add cilantro and gluten free bread crumbs.
Frying Pan:
Heat 2 tbsp olive oil over medium heat. Cook meatballs until they are golden brown on all sides and cooked throughout. Set aside on a paper towel lined plate.
Heat 1 tbsp of olive oil over medium heat and sauté onions until they are soft and translucent. Add in the zucchini and cook for 3-5 minutes, until soft. Toss in cooked brown rice noodles and season with some salt and pepper.
Serve veggies and noodles on a plate and top with zesty hot meatballs.
Eating foods in a healing way is easy and enjoyable. Being healthy doesn't need to be a struggle and keeping a strong and healthy body throughout the fall and winter season can be a pleasure.
Be sure to eat seasonal foods, mostly cooked, with warming spices and herbs. You can find out more information at Yin Yang Diet about Qi Deficiency, what the symptoms are, and how you can heal yourself. For now, stay bundled up, enjoy this gorgeous fall season, and eat with joy.
Tara Akuna is a licensed acupuncturist and food and nutrition writer. She is the creator of the YinYangDiet.ca which offers recipes and diet plans based on Chinese Dietary Therapy. She works in private practice in Vancouver, British Columbia, Canada.