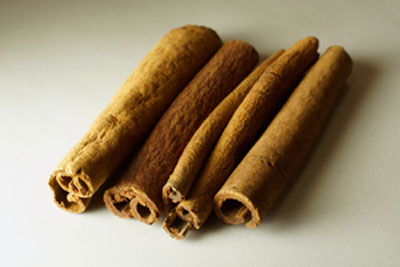 Cinnamon has long been touted by practitioners of traditional Chinese medicine for its healing benefits and is the perfect addition to your cold weather diet. It has been used for centuries to fight the common cold, abdominal discomfort, painful menstruation, diarrhea, fatigue, and lack of appetite. It has warming properties and can improve circulation. Studies have also shown that cinnamon can be beneficial for regulating blood sugar, protecting against disease, and imparting antimicrobial properties.
Add a sprinkle of cinnamon to a variety of meals, such as your morning congee, or use it to make tea. Feel a cold coming on or simply want to warm up? Try this recipe for cinnamon ginger tea:
Ingredients:
1 slice of fresh, organic ginger
1 large, organic cinnamon stick
3 cups filtered water
Directions:
1. In a pot, bring the water to a boil.
2. Add the cinnamon and ginger. Turn off the heat, cover, and let steep for 10 minutes.
Note: To take the recipe up a notch, add black tea. After the cinnamon and ginger have steeped for 10 minutes, place teabags in the mixture and steep for about three more minutes.
What spices do you rely on during the winter? Feel free to share some recipes!