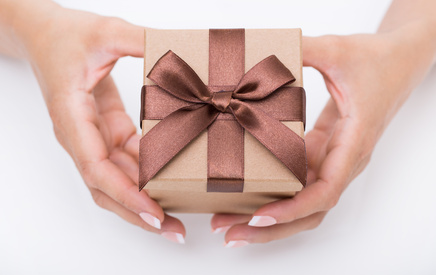 Acupuncture and Oriental Medicine (AOM) Day is observed on October 24 as part of an effort to increase public awareness about the benefits of acupuncture and oriental medicine. TryAcupuncture.org is ready to celebrate! Any individual who receives an acupuncture treatment during the month of October can obtain our complete Feng Shui Program for free! It's a win-win for both patients and licensed acupuncturists.
Licensed acupuncturists can share this perk with new patients or use the promotion to re-ignite connections with old patients! Simply share the event and encourage patients to come in for a treatment to receive the free feng shui program. If you're a patient interested in discovering acupuncture first-hand, now is the time to take the leap! Take advantage of the opportunity to learn about the benefits of acupuncture and the value of a licensed practitioner, while treating conditions in a safe, holistic environment.
Researchers have found a correlation between excessive stress and health issues, such as heart disease, obesity, high blood pressure, and other problems like fibromyalgia and chronic fatigue syndrome. So how can you deal with the stress? One method for restoring balance is the Chinese art of feng shui.
Feng shui is a philosophical system dedicated to harmonizing human existence with the surrounding environment. Using feng shui allows you to balance the energies in any space. When the energies are balanced, inhabitants experience improved health and good fortune.
TryAcupuncture.org will give you this feng shui program, which consists of two e-books and four audios, for free if you've had an acupuncture treatment any time during the month of October. Here's how to claim your gifts:
"Like" the TryAcupuncture.org Facebook page.
Join and Leave us a comment on our Facebook event that states you have received an acupuncture treatment and name (or tag) your licensed acupuncturist.
Fill out our form so we can send you the free feng shui gifts.
It's as simple as that! Want to know what your free gift entails?
Our e-book, "Feng Shui – Tips to Enhance & Harmonize any Home or Business."
"Feng Shui for Every Day" in two forms. You'll receive a four-part downloadable audio book and a downloadable e-book.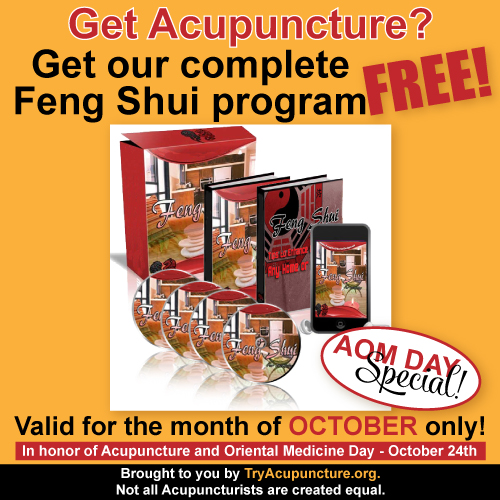 You will learn:
How to experience increased balance.
The secrets to laser sharp focus.
How to redecorate without spending a fortune.
Ways to finally conquer clutter.
How to experience a health renewal.
A way to sell your home faster (even in today's market).
How to attract positive people.
How to grow your business.
Ways to eliminate work stress.
How to gain wealth and prosperity.
And MUCH more
What do you have to lose? Everyone loves a free gift! Plus, it's the perfect motivator to schedule an appointment with a licensed acupuncturist today! Visit TryAcupuncture.org to find a licensed practitioner in your area.