Complex health issues & Vision loss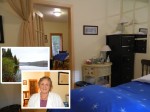 I am a registered acupuncturist with a background in science, research, information technology, health promotion and elder care. I have an Honors BSc. and three diplomas: Biology Lab Technology, Lab Animal Technology (Vet Assistant) and Information Technology.

I am Vice-President of NS-CMAAC, the NS Chapter of CMAAC (the Chinese Medicine and Acupuncture Association of Canada) and considers it an honor to be a part of a tradition with a history and knowledge base spanning thousands of years.

I practice out of my own clinic (Eastern Shore Holistic Acupuncture) in Musquodoboit Harbour and bring a rich life experience to my practice. I understand how health is impacted by environment, workplace, finances, relationships, ability to obtain good food and emotional well being as well as lifestyle and physical constitution.

I am passionate about the holistic aspects of the medicine I practice and enjoy educating others about what I do.

I feel greatly rewarded by being able to help so many people in a world that I believe is "just waking up" to the benefits of natural medicine.