Acupuncture and Herbal Medicines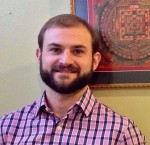 About:
Chris is happily caring for the Community of Huntington, NY, and NationWide, with the utmost thorough and expert holistic health modalities for healing, transformation and growth for a healthier and happier you. His therapeutic craft consists of meticulous and comprehensive Traditional Chinese Medicine (TCM) to include a combination of Acupuncture, custom and individually crafted Herbal Formulas, Tui-Na Massage, Cupping, Moxibustion, and Reiki. In addition, Chris gracefully provides Life Style Counseling, Diet Counseling, and Specific Yogic and Meditation techniques for Healing, Life Balancing, and Life Upliftment.

During sessions you will notice an extraordinary level of Focus, Concentration, and Time spent on you as a patient. They are a unique experience that become quite Relaxing and Relieving while greatly benefiting the body. Chris has many options for thorough and affordable sessions in office, and over the phone or Skype. Begin Your Support Today!