Towson
About:
Steven has been a holistic health practitioner for almost 30 years starting out as a massage therapist and then becoming an Acupuncturist and Herbalist. He has studied homeopathy and Integrative Medicine since 2007 with Dr. Gerard Gueniot, from France and Dr. Robert Abell from California. In 2011 he began studying Auricular Medicine and Auricular Acupuncture with Dr. Raphael Nogier from Lyon France.
Steven offeres acupuncture, European herbal remedies, homeopathy, nutritional supplements and consults and lifestyle consults in his practice. To schedule and appt. or a consultation he can be reached at 443-838-3141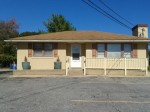 About:
I often describe what I do as using the time honored art of acupuncture
to allow individuals to live as well as they possibly can. I say this
because: Though relatiively new to the west, Acupuncture has been in
continuous use for thousands of years in the East and can arguably be
named as the most used system of medicine in the world. I view
acupuncture more of an art than a science. successful treatment, in my
experience, is based on balancing multiple principles that are involved
in Chinese Medical philosophy, rather than chasing symptoms. In doing
so, I am repeatedly inspired by witnessing how my patients are able to
live with less pain and discomfort, and more fully then before.