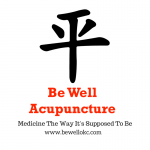 About:
Toni Twitty is an Acupuncture physician who practices Acupuncture in Edmond, OK. Toni specializes in pain conditions, fertility issues, and digestion.

She attended the Universita degli Studi di Urbino, the Universita degli Studi di Pavia, and the Universita degli Studi di Firenze prior to graduating from the University of Tennessee, Knoxville in 2006 with a Bachelor's in Forensic Anthropology. She then obtained a Master's degree in Acupuncture in 2013 from the Academy for Five Element Acupuncture in Gainesville, FL after she completed over 3,000 hours of education and year-long residency in Acupuncture.

Dr. Toni is currently pursuing a Ph.D. in Acupuncture at the Pacific College of Oriental Medicine. Dr. Toni began her career as an Acupuncturist at Valir Health and later decided to create Be Well Acupuncture. She is one of very few Master's Degree holding Acupuncturists in OKC or Edmond, OK and is the only Acupuncturist practicing Five Element Acupuncture in the Oklahoma City Metro area. She uses a variety of complementary modalities including Acupuncture, guasha, tuina, cupping, and Acutonics. She has successfully treated a variety of health concerns including, stress, insomnia, back pain, migraines, allergies, digestive issues, neck and shoulder pain, women's health issues, and much more.

She is dedicated to working with patients in a professional and compassionate manner in order to bring them back to health.

Dr. Toni lives in Guthrie with her husband Brian, her two beautiful step-daughters, and their 4 crazy dogs. In her free time she enjoys traveling, cooking, participating in the girls' extracurricular activities, CrossFit, and cheering for the Tennessee Volunteers.