AIMC – Acupuncture Center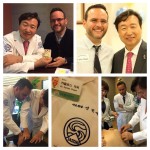 Business Name:
AIMC – Acupuncture Center
About:
Dr. Chapa is a Doctor of Traditional Chinese Medicine. Board Certified & Licensed to practice Traditional Chinese/Eastern Medicine, Acupuncture & Herbology. He has been helping patients for over 20 years.
Dr. Chapa trained in China and graduated from one of S. Korea's most famous and prestigious Medical Programs, Dongguk University
More:
Dr. Chapa is one of only 4 practitioners in the U.S. performing micro-acupuncture with a speciality in eye conditions that can help with:
Glaucoma, Retinitis Pigmentosa,
Macular Degeneration, etc.
(Trained by one of the Worlds Best – Dr. Andy Rosenfarb)
Dr. Chapa is the first American / Non-Asian practitioner who has trained at the World Famous Jaseng Integrative Hospital in S. Korea and was trained by the founder and president himself, Dr. Shin.