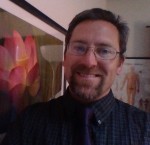 About:
Dr. Terence McCormick, BS, MAcOM, DAOM is the first Doctor of Acupuncture and Oriental Medicine in Wyoming and Northern Colorado. He brings over 25 years of clinical experience and a decade of AOM education to his practice. He believes healing is a process that occurs on every level of our being. He uses modern and traditional evidence based approaches including: Acupuncture, Trigger Point Dry Needling, Low Level Laser Therapy (non-needle laser acupuncture), Traditional Chinese herbal formulas along with TCM nutrition and dietary therapy. He has a general family practice that cares for men, women and children of all ages.
Dr. McCormick's practice relies on a Traditional Chinese Medicine (TCM) approach to healing including both needle and non-needle therapies. Additionally, he provides herbal prescriptions from his extensive TCM dispensary, the largest selection of practitioner grade herbs and formulas in Wyoming and Colorado with over 5,000 different formulas.
Dr. McCormick's practice specializes in needle and non-needle approaches to acupuncture (laser). His qualifications exceed the requirements for licensing throughout the US and he has passed the rigorous California Acupuncture Board exam in 2014. He was a professor and clinical supervisor at two acupuncture and Oriental medicine colleges.