Healing Life Traditional Chinese Medicine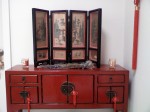 Business Name:
Healing Life Traditional Chinese Medicine
About:
Laraine Crampton practices the full classical range of Chinese medicine and acupuncture, including nutritional counselling, therapeutic exercise, herbal medicine and more. In 2014, with 16 years of practice experience, she added a Doctorate in Acupuncture and Oriental Medicine, specializing in integrative longevity medicine, and completed a residency in acupuncture and tui na at LongHua Hospital in Shanghai, China.
More:
A faculty member and clinical supervisor at Yo San University of TCM, editor of publications in the field, she enjoys continually learning and exploring effective solutions to bring to her patients in private practice.