Healing Point Therapeutics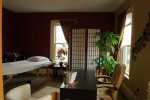 Business Name:
Healing Point Therapeutics
About:
As an acupuncturist and hypnotherapist, my goal is to act as a catalyst for positive change in every patient. I specialize in a unique treatment that I refer to as "hypnoacupuncture," which is a combination of acupuncture and hypnotherapy. Combining the power of hypnosis with acupuncture has proven to create treatments that are effective on all levels: physical, mental, and emotional. Many patients describe these sessions as life-altering, and find them to be more deeply relaxing than anything they have ever experienced before. I treat many patients for weight-loss and smoking cessation, but I have found that these combination sessions of hypnosis and acupuncture can benefit endless issues, including depression, anxiety, and insomnia. At Healing Point Therapeutics, my mission is to have every patient leave the treatment table prepared to reach their highest potential in health and well-being.