Arise Family Chiropractic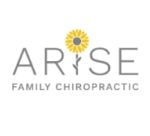 Business Name:
Arise Family Chiropractic
About:
We're a family-centered chiropractic office in Cumming, Georgia. Our mission is to offer a solution to your family's health care needs by providing exceptional neurologically-based chiropractic care and nutrition to those of all ages. Arise Family Chiropractic uses state of the art technology to properly address your family's health concerns and then works to correct these issues by re-establishing proper structure and function to the body. Our goal is to restore healing within your body so that you and your family are happy, healthy, and living life optimally!